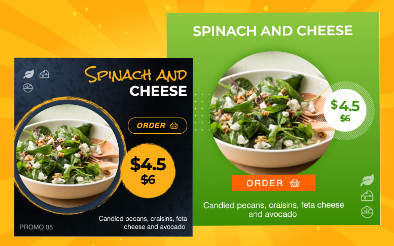 A signle meal promo block adjusted with a max size, easily designed with one out of the box designs and tuned with a special promo label. Promo block may be added everywhere where a module can be placed - in a module position or inside an article. Key part of the block is a meal image, so make sure you add images for promo meals at least. Other elements like FWFM Order Online (Order button), FWFM Prices & Discounts (price label and dicount) and FWFM Meal Badges addons will appear on promo block if available.
Release date:
03 June 2022
Requires:
FW Food Menu 5.0.x or higher
FWFM Images
All Features
Promote meal items
6 unique designs available to show meal of the day, new, special price or just a recommended item form a menu.
FWFM Promo
Product Change Log
Version 2.1.0 (

Minor

)
released on 06 Oct 2021, 1 modification
New features
New language concept uses one language file for all add-ons.
Version 2.0.0 (

Major

)
released on 08 Feb 2021, 1 modification
New features
Joomla! 4.0 compatibility. Add-on will only work with FW Food Menu v4.0 or higher!
Version 1.0.1 (

Maintenance

)
released on 13 Jan 2021, 2 modifications
Updates
Changed a fork for Promo block sizes for responsive compliance.
Design update and CSS clean up.
Version 1.0.0 (

Major

)
released on 24 Dec 2020, 6 modifications
New features
New module that shows any selected meal with its image and description in selected design.
6 out of the box promo designs available.
Set max module size to fit into target page.
Use promo Label to emphasize promo goal.
Supports FWFM Order Online order button.
Supports FWFM Meal Badges icons.
    © 2007 - 2022 Fastw3b LLC
Joomla! name is used under a limited license from Open Source Matters in the United States and other countries. Fastw3b LLC is not affiliated with or endorsed by Open Source Matters or the Joomla! project.