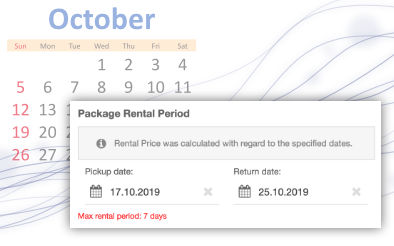 Helpful for rental categories with mass rental items to see what is in stock for the preiod. If module is shown with rental categories it shows max rental period for all categories/products listed. Also if dates are selected in rental category items stock for the selected dates will be updated to show which products are available for rent.
Requires:
FW Virtuemart Rental or higher
All Features
Batch rental
Set a rental period to see products available in a category, and book available in one go.
    © 2007 - 2022 Fastw3b LLC
Joomla! name is used under a limited license from Open Source Matters in the United States and other countries. Fastw3b LLC is not affiliated with or endorsed by Open Source Matters or the Joomla! project.