For many business owners getting a rental website with a booking functionality can be tricky, but we will show it is not. In this article, we will review a common Party Rental website with booking service created with
FW Virtuemart Rental
. You can see the final result at
Party rentals on demo
.
Reading time: 10 mins. 
Implementation time: 35 mins.
With the right tool creating a similar rental website is easier than ever. Our party rental website provides the following benefits:
Easy bookings via Transparent and informative booking form.
Quick package rentals via Rental Dates Module allowing for booking multiple products at the same time.
Reliable stock control with stock indicators and low stock notifications.
Flexible pricing terms via a pricing grid.
Discount pricing via a pricing grid allowing to show original and discount prices.
Renting out party equipment is one of the most popular rental business ideas. To give it a successful start, you need to get a basic website going. FW Virtuemart Rental Plugin is a ready-made solution for your Joomla VirtueMart website. The key requirement for getting started with FW Virtuemart Rental is making sure that your Joomla website is pre-installed with VirtueMart component.
Documentation reference: Getting started documentation page.
If your have VirtueMart component and FW Virtuemart Rental Plugin in place, it takes around 35 mins to set up similar rental functionality on your website. The overall configuration process is as follows:
Create a parent category with child categories to show different rental services on offer and respective products within each child category.
Add and configure products. Set up pricing terms, discount pricing, insurance/deposit functionality, etc.
Display a category to show products on your Joomla VirtueMart website.

Configure FW VM Rental Dates Module to allow for package rent.

Check out our Party rentals guide to learn how to configure every page of Party Rentals showcase. Now let's review the key features and benefits below.
Page with party rental categories
You can break your rental services by events - birthdays, weddings, corporate meetings, etc., or by product types bars, furniture, cooking. In our showcase, we created a separate category for each product type. Let's review the following elements of this page below: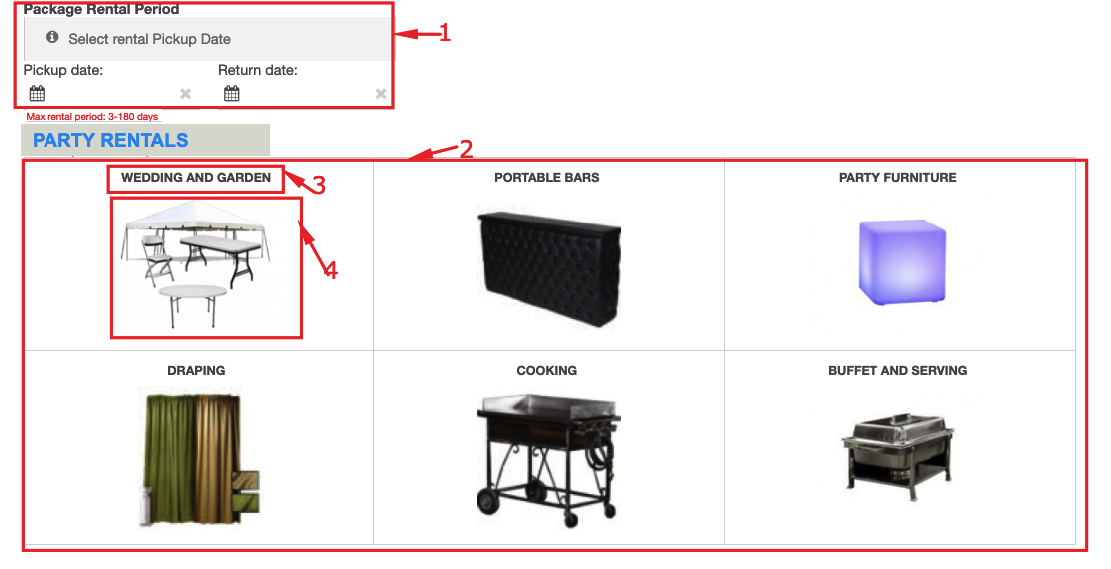 Rental Dates module section. If your customers need to book multiple products for the same dates, they can enter these dates into the Pickup date/Return date fields of the Rental Dates module and see which products are available for the specified dates by going to the needed category.
Categories list. Add as many categories as it is determined by your business model.
Category title. Simple and concise title of the category so your customers could easily navigate to a required category.
Category image. Upload category image to present it on the page.
Page with party rental category
On this page you can see products belonging to a single category. The dates in the Rental Dates module are already pre-filled, total rental prices are already calculated with regard to these dates, and stock number is displayed for each product. Let's review the following elements below: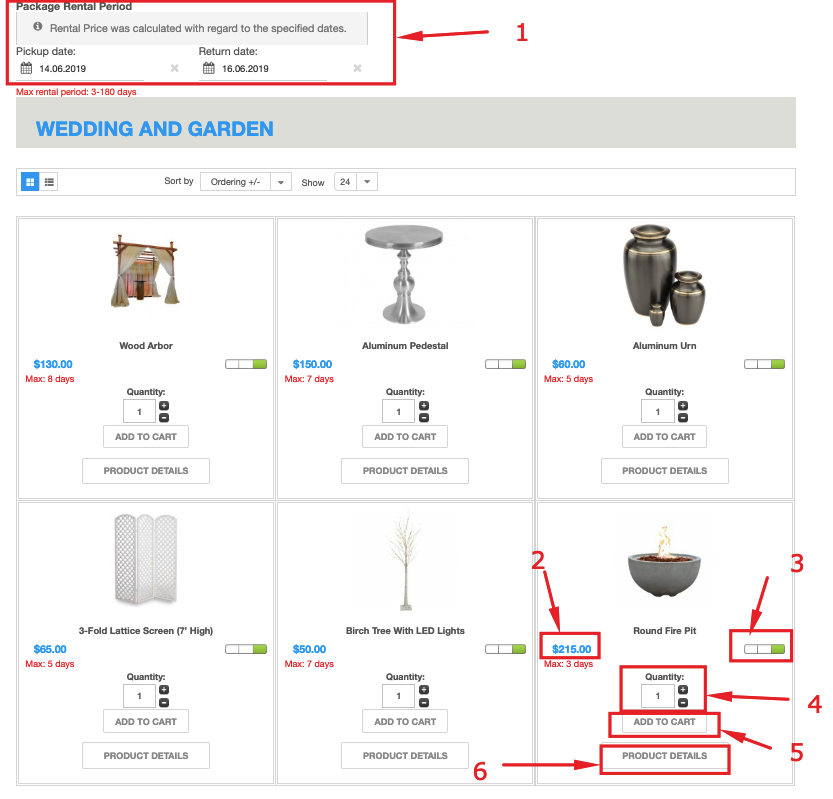 Rental Dates module. If you specify rental dates on the page with multiple categories, they get pre-filled on this page. However, you can enter rental dates right here, on the category page.
Total rental price. The total rental price calculated with regard to the rental period indicated via Rental Dates module.
Stock control indicator. Signifies about stock sufficiency/insufficiency with green/red color.
Stock quantity. A number of products available in stock.
Add to cart button. Click this button to proceed directly to the checkout stage, without getting into the details of the rental deal.
Product details. Click this button to get into the details of the rental deal - calculations, pricing terms, discount details, deposit/insurance rates, etc.
Product page
On the product page you can view a booking form showing all the details of the rental deal - rental terms, calculations, insurance/deposit amounts, maximum allowed period, etc. You can also set discount prices for a product. Let's review discount pricing elements in the screenshot below. The concept of the booking form is transparency and ease of use. You can change the rental terms right on the product page if it is needed.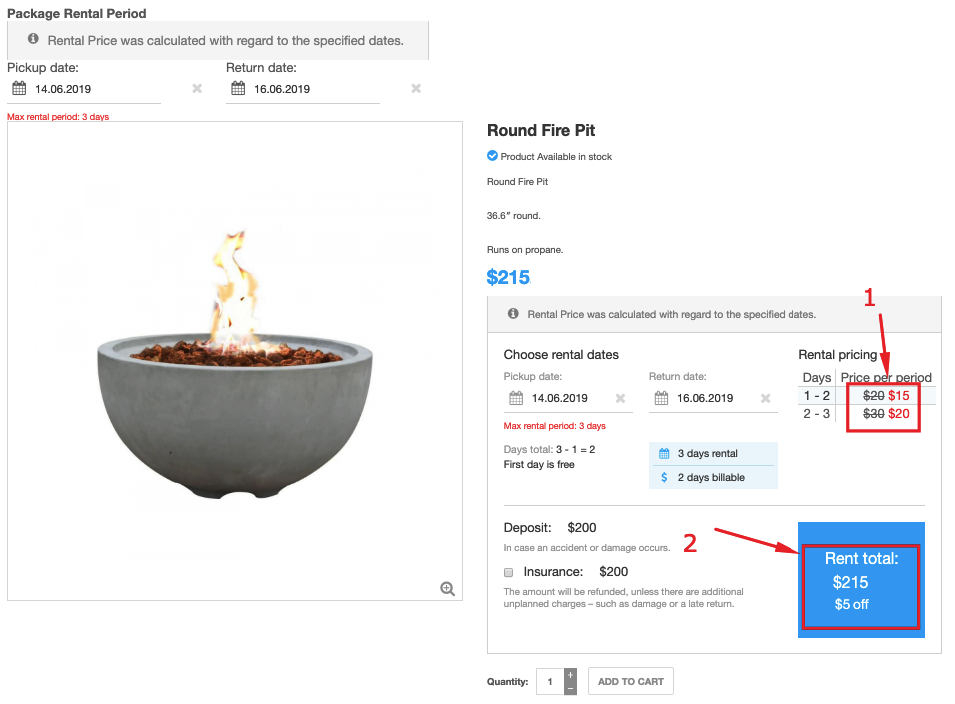 Discount pricing terms. The original price is shown as crossed and discount price is highlighted with red.
Total rental price with a discount. Total rental price is shown along with the discount amount.
FW Virtuemart Rental Plugin
is a sound solution for your party rentals business. If you like the concept of the showcase, you can create a similar one with your own hands. We clearly outlined all steps for adding rental functionality in our Party Rentals guide. Get familiar with
FWVM Rental documentation
to find more information about our product.