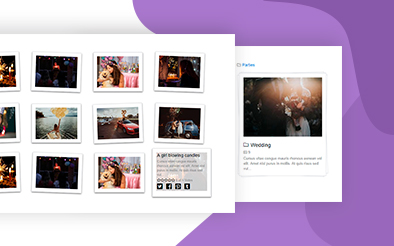 Present your gallery with awesome polaroid design. Enables you to create stylish and responsive images grids in polaroid style.
Mobile-ready
Cross-browser compatible
Performs at the highest degree
Release date:
03 June 2022
Requires:
FW Gallery 7.0.x or higher
All Features
Polaroid design
Polaroid styled files design with randomly angled images that rotates back on hover effect.
FWG Polaroid
Product Change Log
Version 2.1.0 (

Minor

)
released on 10 May 2021, 1 modification
Updates
Major language file structure rework in the main component compatibility release.
Version 2.0.0 (

Major

)
released on 23 Mar 2021, 1 modification
New features
Full FW Gallery v 6.x compatibility. Major code review and refactoring to work with Joomla! 4 new architecture and libraries.
Version 1.2.0 (

Minor

)
released on 28 Oct 2020, 3 modifications
New features
Slideshow Layout design following the concept of main theme and colors.
Updates
Context help and detailed parameter description with all language files update.
Massive add-on naming review and cleanup.
Version 1.1.1 (

Maintenance

)
released on 14 Apr 2020, 1 modification
Updates
Colors for new icons in Social Share plugin.
Version 1.1.0 (

Minor

)
released on 13 Mar 2020, 1 modification
Updates
Gallery design updated and improved to be more stylish and look user-friendly.
    © 2007 - 2022 Fastw3b LLC
Joomla! name is used under a limited license from Open Source Matters in the United States and other countries. Fastw3b LLC is not affiliated with or endorsed by Open Source Matters or the Joomla! project.