Order items count and total to place in any module position on a website and let customers know what they already ordered. Also lets update items quantity and remove items from an order in case on need. FWFM Order Online required.
Release date:
19 February 2021
Requires:
FW Food Menu 4.3.x or higher
FWFM Order Online
All Features
Items basket
Inline basket module for Online Order add-on that shows all selected items and allow add/update items and send order to a manager.
FWFM Order Basket
Product Change Log
Version 3.1.0 (

Minor

)
released on 19 Feb 2021, 3 modifications
New features
New cart layout with number of items and total on a side.
Updates
Revised mobile view with right alignment for small screens.
Order list table max heigh with scroll to prevent big orders going to far.
Version 3.0.0 (

Major

)
released on 08 Feb 2021, 1 modification
New features
Joomla! 4.0 compatibility. Add-on will only work with FW Food Menu v4.0 or higher!
Version 2.2.0 (

Minor

)
released on 24 Dec 2020, 1 modification
Updates
Update to work with a new major version FW Food Menu 3.0.0
Version 2.1.0 (

Minor

)
released on 17 Sep 2020, 2 modifications
New features
- Integration into new component to work in unified admin system with improved context help.
Updates
- Updated language constants to match new concept.
Version 2.0.0 (

Major

)
released on 26 May 2020, 5 modifications
New features
Major rework to make it compatible and synchronize with new Order Online 2.0.0 add-on.
Tax calculation.
Shipping calculation.
Redesigned checkout window.
Updates
Design update to match main Order Online add-on style.
Version 1.0.0 (

Major

)
released on 20 Mar 2020, 5 modifications
New features
Order items list.
Update items quantity and recalculate total.
Remove items from cart.
Order note for special announcements.
Delivery/booking time form.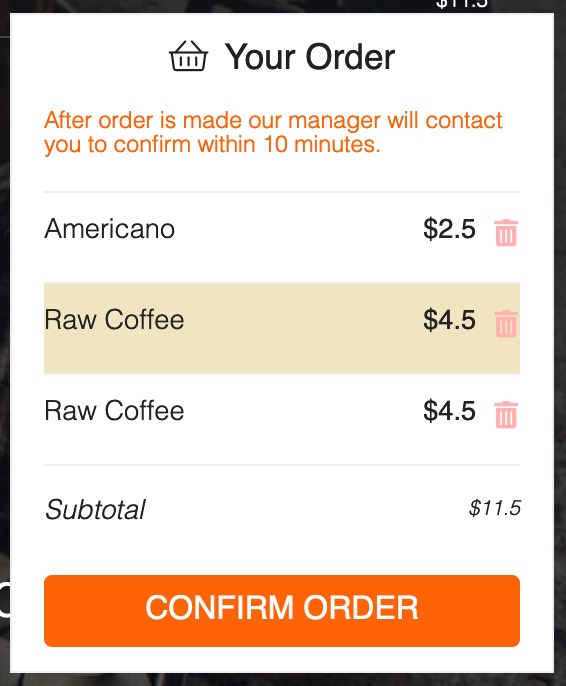 Shows order summary box with the list of all items selected for order, delivery options, tax and order notes. This module duplicates Order summary from Order Online layout. FWFM Order Online add-on is required for module to work.