The fastest way to get FW Food Menu working
Setting up FW Food Menu on your Wordpress website is a very simple and straightforward process.
Here are the topics covered in this manual:
Downloading free component
Installing on Wordpress
Basic configuration
Verifying account
Understanding Add-ons concept
Support & documentation
Downloading free component
FW Food Menu is a free Wordpress component with no limits in number of categories or meals. You can always find the latest version on our website at FW Food Menu product page . Take your time to explore product page as it contains a lot of helpful information on the product.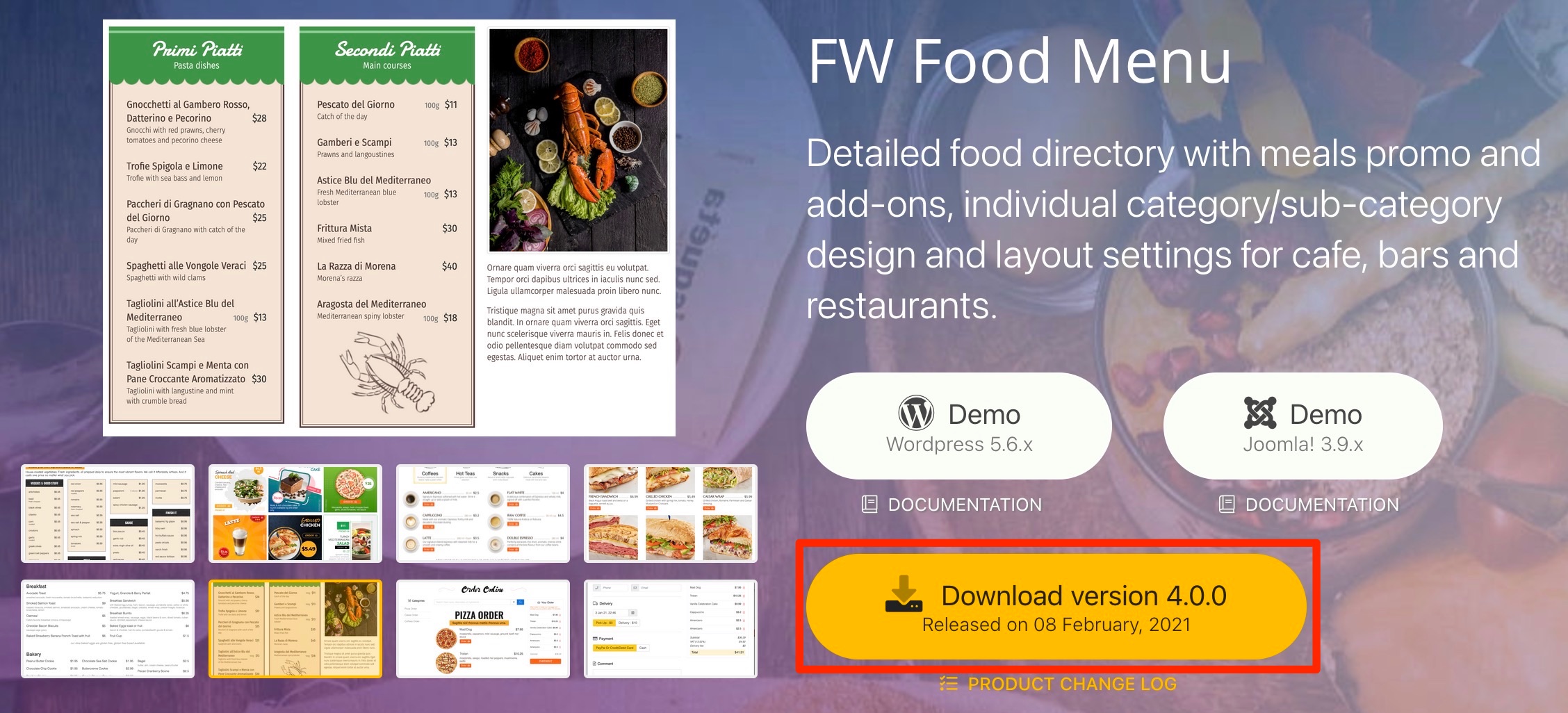 Find a big yellow Download button and hit it. If you are on top of the page you will be taken to a download section and you will need to hit Download button one more time. The same yellow big button.

Downloading FW Food Menu will require a registration at fastw3b.com or login, if you already have an account. We ask to register to allow further free update from dashboard of your component and very easy add-ons installation later on from Dashboard section of FW Food Menu component right on your website.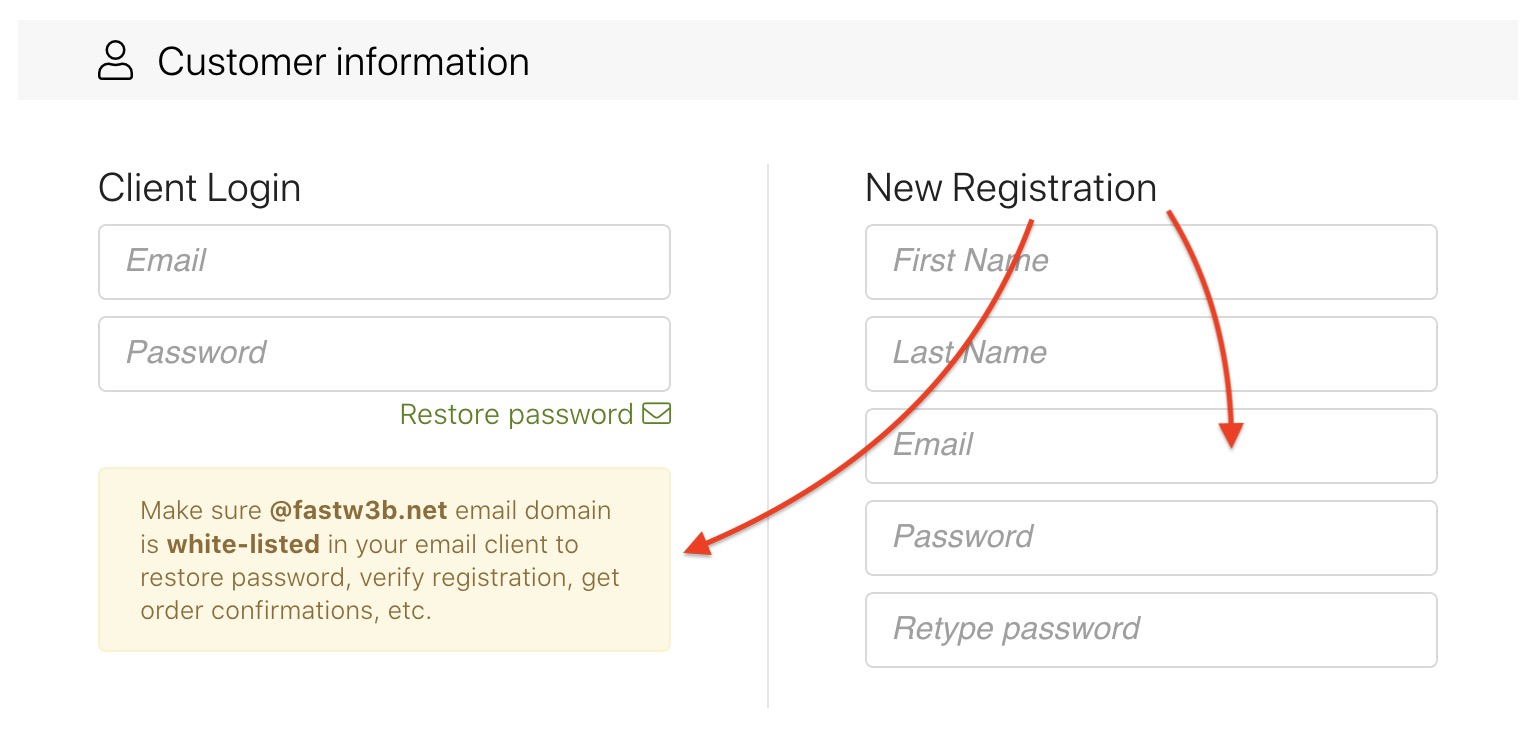 In Order Details section on download page you will see product info, a list of free add-ons that come with the product on the right and a link to Terms & Conditions.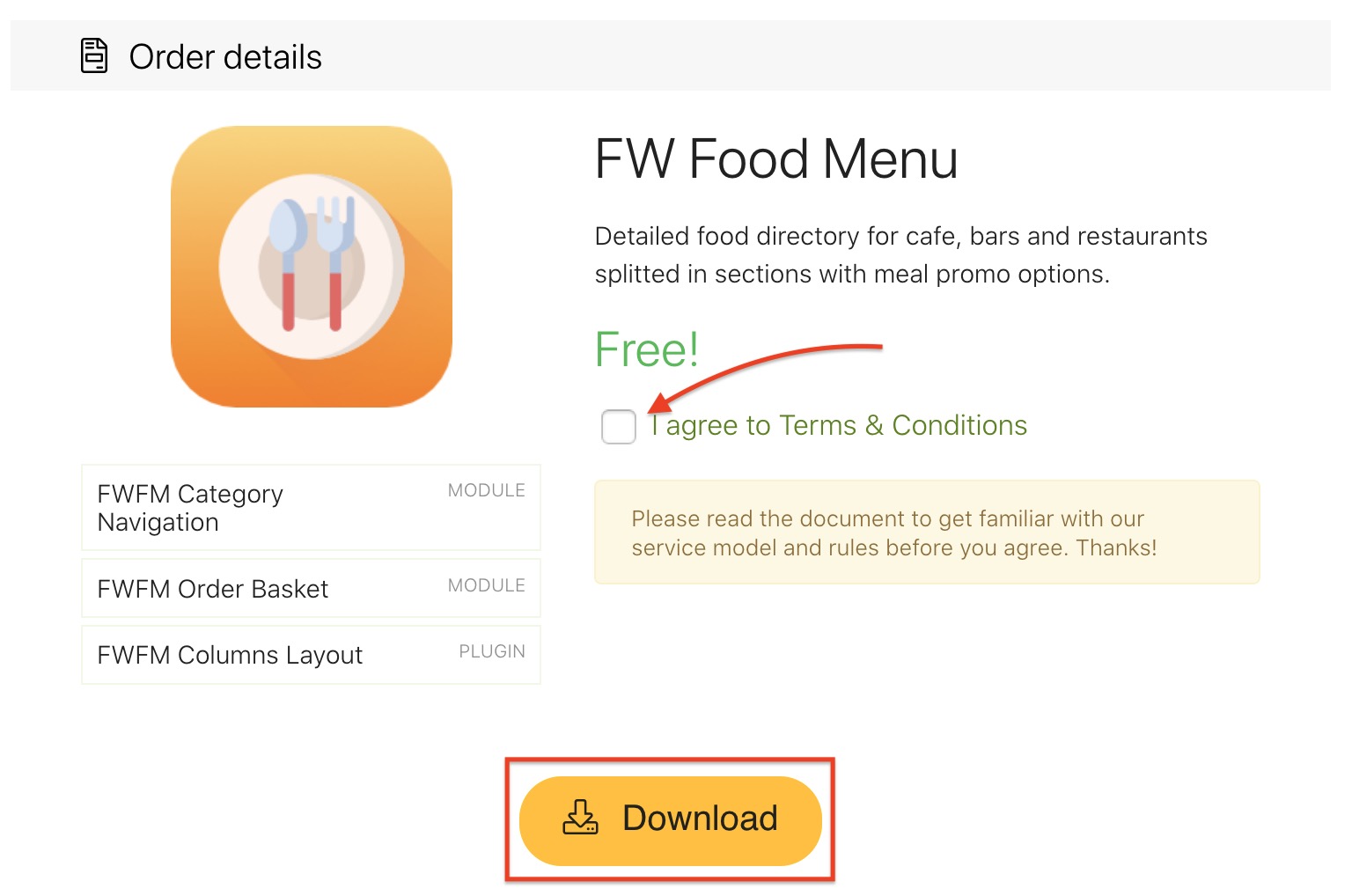 After clicking the final big yellow download button you will be able to download a file and store it on your local computer.
Download complete! Now you have an installation ZIP archive file on your computer. Let's move on to installation.
Installing on Joomla!
If you followed previous Downloading free plugin part carefully you have a ZIP FW Food Menu file ready to install. The process is no different from any other Wordpress plugin installation. Follow the steps below:
Open Wordpress Admin in a browser. Usually it is your website + /wp-admin/ in URL.
Example: https://yourwpwebsite.com/wp-admin/
In Admin Side Menu go to Plugins -> Add New.
Click Upload Plugin button on top.
Browse locate FW Food Menu installation file on a hard drive and click Install Now button to install plugin.
When installation is complete you will see a message from Joomla! reporting your installation was successful.

Basic configuration
Before you start filling your website with actual data 2 things we recommend you to do:
Go to FW Food Menu -> Dashboard and make sure Quick Check section is green, telling you that all important folders exist and writable.
In FW Food Menu -> Settings set a currency you will be adding your price in. This setting is not critical, but if you plan specifying for the prices you should do it there. Can be done later.
Detailed overview of every FW Food Menu section in Admin can be found in Main Component manual.
Verifying a website
Verification is a very important step! It will allow you to update component and install add-ons in one click, see new versions available, check new paid and free add-ons, manage subscriptions and use support.
Verification block can be found on every FW Food Menu Admin section on the top of a side menu.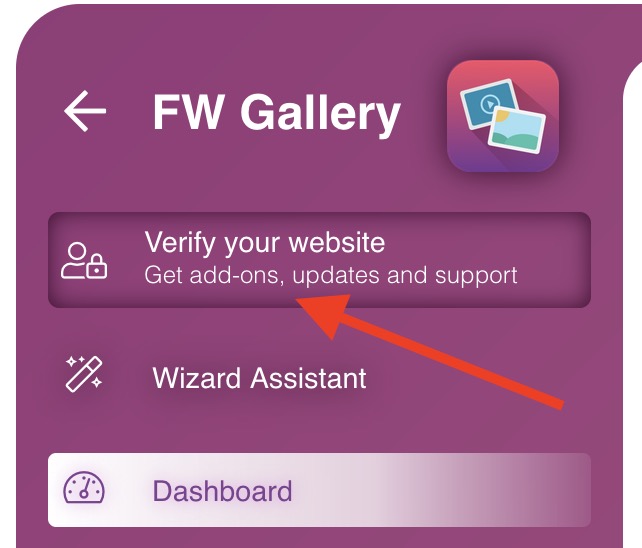 You will be asked to add your unique Access Code from Client Section at fastw3b.com website.
Once your account is verified you will be able to:
Download and install all purchased/free add-ons.
See when add-on and component update is available and install it in one click (if allowed).
See all new add-ons in Admin -> Add-ons section of your component.
Manage subscriptions right from your website's Dashboard section in Admin panel.
Use verified website to report a bug in Fastw3b Ticket Support system.
Understanding Add-ons concept
FW Food Menu is a free Wordpress plugin with free and paid add-ons. Add-on is a very important element of Fastw3b product eco system. It allows flexibility to use only those features every website needs saving budget and time configuring through numerous features one may not need.
Add-on is any FW Food Menu specific plugin. Add-ons can only be used within FW Food Menu plugin. Add-ons can only be installed and updated via FW Food Menu Dashboard. That is why we came up with a specific word "Add-on" for all these product specific extensions.
A type of add-on is always specified in Add-ons section in Admin panel on your website.
It doesn't matter if you buy add-ons from your component's Admin Add-ons section or our website. These transactions are equal and will reflect in your account the same way. All paid add-ons come as subscriptions for 30 days or 12 months.
We came up with 30 days option because some websites need a quick and cheap solution. Sometimes it may be good for testing purposes while developer is not sure if solution will work with other products on a website.
12 months subscription allows you to download updates any time within a year and get access to full support. Yearly subscription costs at least 250% cheaper comparing to monthly option. We encourage you to get yearly subscriptions and enjoy all benefits of new releases and exceptional support.
Documentation, demo & support
Every product has its own documentation section, demo website and support. While development is a never-ending process we try our best to keep documentation and demo synced and actual to current development state.
Most of the job is being done while we develop and test new releases. From the other hand our tests are limited to our imagination and environment we test in. Sometimes, receiving your questions in Ticket Support, we hear of new ways to use features we never thought of using this way. Sometimes we discover how some specific hosting environments may affect our product performance. It also happens when we miss some bugs and release them in new versions after fixing other parts of the product. But as soon as problem is discovered we release an update as soon as we can.
Our Ticket Support system is part of our subscription for all our customers disregarding of number add-ons you use or technical level you have. If you can't find any information or feel puzzled please don't hesitate to contact us and we will assist with any your questions about our product and add-ons.