Coffee House inspired design with coffee palette colors and font that helps to create right atmosphere for a coffee menu.
Release date:
03 June 2022
Requires:
FW Food Menu 5.0.x or higher
All Features
Coffee shop design
Coffee shop inspired design and colors for category list and menu items layouts. All other elements that come with add-ons are included and designed as well.
FWFM Coffee House
Product Change Log
Version 3.1.0 (

Minor

)
released on 31 Aug 2021, 1 modification
Updates
Complete theme overview and update to work with all available configuration settings for desktop and mobile layouts.
Version 3.0.1 (

Maintenance

)
released on 05 Aug 2021, 2 modifications
Updates
Responsive update for menu items on small screens.
Site meal style update for center alignment setting.
Version 3.0.0 (

Major

)
released on 08 Feb 2021, 2 modifications
New features
Joomla! 4.0 compatibility. Add-on will only work with FW Food Menu v4.0 or higher!
Updates
Full context help review and update.
Version 2.0.0 (

Major

)
released on 24 Dec 2020, 1 modification
New features
Completely revised version with meals and category design update.
Version 1.1.0 (

Minor

)
released on 17 Sep 2020, 2 modifications
New features
- Integration into new component to work in unified admin system with improved context help.
Updates
- Updated language constants to match new concept.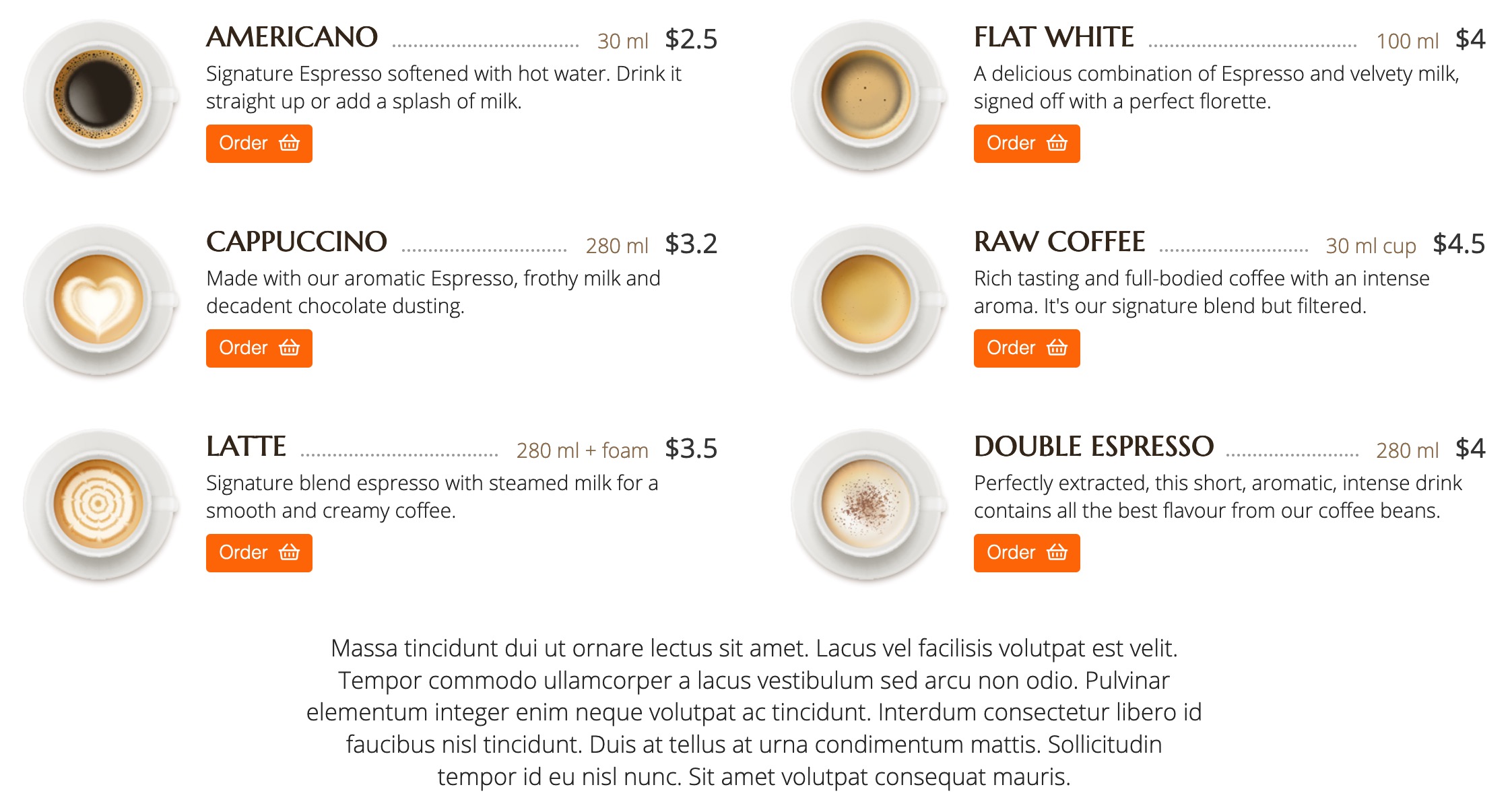 Clean and minimalistic coffee theme with dot leveled prices and coffee colors.
CSS Styles
Customize
CSS styles
with your own overrides in this section and keep it after upgrade. Only
Custom CSS tab
is editable all other files help to look up default styling and copy in case of need.
Located in Admin Main Menu -> Components -> FW Food Menu -> CSS Styles
Coffee House CSS Tab
FWFM Coffee House
Non-editable source CSS file for FWFM Coffee House design loaded here for reference to look up needed styles and redefine in Custom CSS tab if needed. Use Custom CSS tab to store your CSS modifications to prevent them from loss at the update.