Category menu structure in a module that is helpfull to have on a side of long menus. It's only purpose is to show how menu is structured and help navigate menu categories.
Release date:
03 June 2022
Requires:
FW Food Menu 5.0.x or higher
All Features
Categories navigation
Jump/scroll between menu sections if shown on a single page. If shown outside Food Menu component will load first Food Menu page.
FWFM Categories List
Product Change Log
Version 3.1.0 (

Minor

)
released on 06 Oct 2021, 2 modifications
New features
New language concept uses one language file for all add-ons.
Updates
Empty categories are now shown, if they are published.
Version 3.0.0 (

Major

)
released on 08 Feb 2021, 1 modification
New features
Joomla! 4.0 compatibility. Add-on will only work with FW Food Menu v4.0 or higher!
Version 2.1.0 (

Minor

)
released on 13 Jan 2021, 1 modification
Updates
Shows now all category title by default even those that had titles hidden. You can change this parameter in settings.
Version 2.0.0 (

Major

)
released on 24 Dec 2020, 1 modification
New features
Categories links can now navigate section on a page where shown and open other categories on other pages at the same time.
Version 1.3.0 (

Minor

)
released on 17 Sep 2020, 2 modifications
New features
- Integration into new component to work in unified admin system with improved context help.
Updates
- Updated language constants to match new concept.
Version 1.2.1 (

Maintenance

)
released on 08 Jun 2020, 1 modification
Bugfixes
Fixing a bug when no category is selected for menu item and it was breaking SEF link and gave an error.
Version 1.2.0 (

Minor

)
released on 14 May 2020, 3 modifications
New features
Allows selecting categories for module to show.
Multiple modules can be used on the same page.
Updates
Links are built correctly and lead exactly to the category selected versus first FW Food Menu item found.
Version 1.1.0 (

Minor

)
released on 11 Mar 2020, 1 modification
New features
Added parameter Hide hidden titles set to YES by default that allow to exclude hidden category titles in navigation list.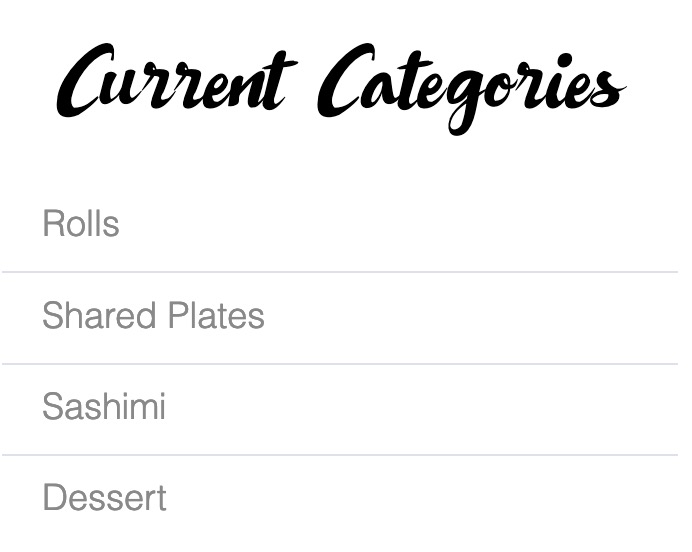 Shows a list of selected categories with links to menu pages. If a category is on the same page as a Category list it will not reload and will just scroll to a category clicked. If a module show categories located on a different page a link will take a customer to a page with a category and scroll to its title. There is a Hide hidden titles parameter that helps to keep Category list clean from non-visible categories.
Select categories
Select parent categories with their subcategories to be shown in Category list.
Hide hidden titles
Hide categories which has Show title parameter set to No. Using categories with no titles allows to add text blocks in-between categories or group other categories into sections with different number of columns, thus they will not contain any meals.